Music of the Troubadours
Returning for another season are the Greek chorus of Robson Arms - the Troubadours.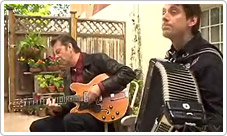 Tom Saunders (the tall one) and Jason Dedrick (not as tall) are the Troubadours, a musical duo who at the start of each episode interject their take on the goings on at Robson Arms. "We've been called the ghosts of the buildings," says Dedrick explaining that the pair was given the task of summarizing in about a minute what happened on the previous week's show and what's going to happen on the upcoming show, without giving away too much of the story.
"That's how we try to tell the story in as short a time as possible with as many chord changes as possible," notes Dedrick who plays keyboards, drums and accordion. Using themes from the show, the Troubadours wind through the story from start to finish. The two musicians work together to compose their weekly chorus additions, with Dedrick creating the lyrics and Saunders putting together the chords and the melodies, resulting in tunes that "sound like a four-minute song crammed into about one minute and 15 seconds," says Dedrick.
The Vancouverites, who began collaborating together in 1991, were brought into the first season fold when the show's executive producer Gary Harvey called and invited them to submit a demo song based on a couple of Robson Arms' scripts. "We did a couple of songs for them, and they passed it around amongst them and that was it, we were in," explains Saunders, who plays guitar. Dedrick is glad to be back performing on, in, and around Robson Arms again. "I love everything about this series. I love this building. I love the fact that the stories can intertwine or not intertwine," he says. "You're not sort of stuck with the same people every week." Cassini adds, "It puts you in a good mood. It puts you in that mood of let's see what trouble we're up to this week. So I really think that they are very, very important in this series. And I think it's just genius how they link them in, and how they show up in different parts of the building; on the roof, in a tree, it's really fantastic."