"Geeks in Love"
Written by: David Moses Directed by: Gary Harvey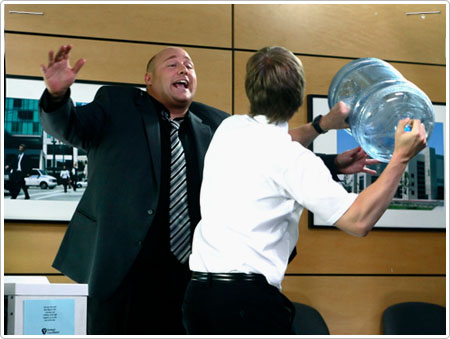 Newlyweds Fred and Alicia are happier than a couple of Klingons spilling Romulan blood. That is until Fred's co-worker Bark starts flirting with Alicia. Can Fred overcome his jealousy and insecurity to be Alicia's tiger again?
| | |
| --- | --- |
| Actor | Character |
| Haig Sutherland | Fred Fochs |
| Jane McGregor | Alicia Plecas |
| Will Sasso | Bark |
| Zak Santiago | Hal Garcia |
| Gary Sekhon | Raj |
| Vanesa Tomasino | Tish |
| Tom Saunders & Jason Dedrick | The Troubadours |
Dirty Laundry

Will Sasso had everybody breaking up during the filming of the behind-the-scenes video footage, proving that he is adept at totally irreverent improvisation. Interviewed about a number of diverse issues by video host (and Robson Arms Creative Producer) Dave Moses, Sasso managed to work in an elaborate fart-related response to nearly every question. He later admitted it may have been a not so 'silent' tribute to Season 2's Leslie Nielsen, the undisputed fart cushion king.

In this episode, Haig Sutherland attacks Will Sasso by bashing him over the head with a water cooler bottle. Realising it would be next to impossible to get clearance on any brand name water to be used as a weapon, the props department labelled the container as "Tylangoo." A brand name owned by the props department, "Tylangoo" can be seen on dozens of products in Robson Arms.