Colin Foo
As Bao Tan, Apartment #100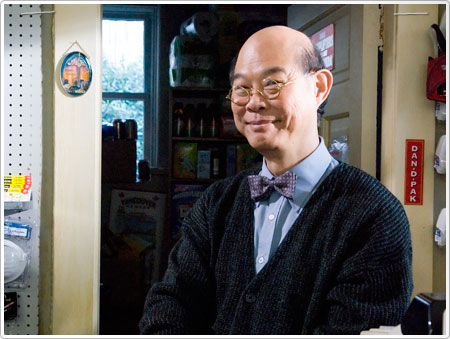 A versatile, nuanced performer, Colin Foo's work in the Indie short film Just Smile and Nod and on the first season of Robson Arms garnered two Leo Award nominations as Best Lead Male Performer and Best Male Guest Star In A Dramatic Series.
These are not the first nominations for Foo, who also appeared on the big screen in the feature film Fetching Cody and with a dramatic change in personae, as the evil "shard," a menacing strip club and porn theatre owner in Live Feed. Foo also guest stars in Masters of Horror directed by John Carpenter.
Foo has an impressive list of credits that range from two different gender roles in Mina Shum's heart-warming drama Long Life, Happiness and Prosperity (Leo nomination), and roles in The Truth About Miranda, Scooby Doo 2, A Great Upstanding Member, and MXP: Most Extreme Primate. Other credits include the series lead in the Comedy Network show The Unprofessionals (Leo Nomination) and principal roles in feature films A Muppet Christmas Show, A Guy Thing, Saving Silverman, Antitrust and Romeo Must Die. Other television credits include a recurring role in the still widely-syndicated series Madison and co-starring roles in Mysterious Ways, Voyage of the Unicorn and Seven Days. Additional TV credits include co-starring roles in Presumed Dead and Peacemakers.
Foo was born and raised in Asia and abandoned his dynamic and promising ad agency career there to come to Canada in 1975 to look after his parents when they retired. A top-ranked realtor for over 18 years, Foo retired in January 2002 to pursue acting, a career that came about by accident when he drove a friend to an audition for a Yellow Pages commercial. He got the role instead is still recognized for it.
Foo has been dubbed a "Renaissance Man." He speaks English, Cantonese and Mandarin, is a pianist, an award-winning baritone singer, and an internationally renowned artist. He is also an accomplished chef who had his own cooking show on Rogers Cablevision, and still frequently appears as a guest chef. Foo has also been nominated for the prestigious Order of Canada in recognition of his outstanding community service.
Select Another: