John Cassini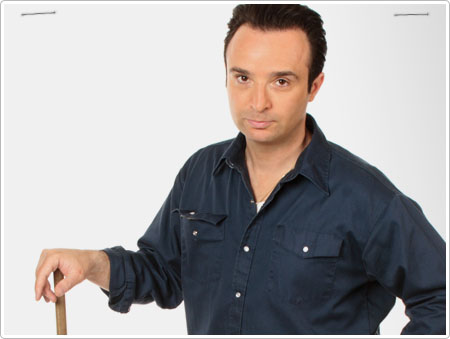 John Cassini was born in downtown Toronto and attended Central Tech High school. He first came to Vancouver via Simon Fraser University on a partial Track and Football scholarship. It was there that John explored his passion for acting and began formal training. Soon thereafter, he moved to New York to continue his acting studies and perform in as many theatre roles as possible.
Cassini returned to Vancouver where he guest starred in a myriad of television and films projects and helped found the Gastown Actors Studio. In 1992, after shooting the Disney feature Alive, Cassini moved to Los Angeles where he worked extensively in television, film and theatre for the next 12 years, eventually becoming a lifetime member of the prestigious Actors Studio, whose residing presidents are Al Pacino, Harvey Keitel and Ellen Burstyn.
While in Los Angeles he was a founding member of the Third Street Theater. In addition to directing several plays, he also starred in the title roles in David Mamet's Edmund, Sam Shepard's Geography Of A Horse Dreamer, and Harold Pinter's One For The Road, and the original stage production of They Shoot Horses Don't They? which was named L.A. Weekly's Production of the Year. His television credits include ER, The Practice and DaVinci's Inquest for which he received a Gemini nomination. His many feature film credits include Alive, David Fincher's Seven and The Game, Get Carter, John Woo's Paycheck, Catwoman, and smaller independents such as Love Object, Female Perversions, Cool Money and Vice.
When Cassini returned to Canada in 2004 to start his family, he took on the role of Yuri Kukoc on the critically acclaimed CTV comedy series Robson Arms (now in its 3rd season), which garnered him a Leo Award for Best Lead Performance. Currently John is reprising his role as Ronnie Delmonico in Chris Haddock's critically lauded CBC drama series Intelligence. In addition to I, Cassini will be seen in the soon to be released feature film Vice.
Cassini has also co-written, produced and directed the festival favourite short film Freedom Park which was supported by renowned producers Frank Marshall and Kathleen Kennedy. Following his short film, Cassini went on to play the lead role of Max Matteo in Break A Leg, a feature film which he produced and co-wrote with his brother Frank, and included cast members Jennifer Beals, Molly Parker, Sandra Oh, Kevin Corrigan, and Eric Roberts. Break A Leg has played at over 20 U.S. film festivals and has won 12 Best Feature or Audience Awards as well as Best Actor for Cassini at the Marco Island Film Festival.
Cassini's range and versatility as an actor can be seen in his extensive list of television and film credits which include multiple episodes of NYPD Blue.
Presently, John is also in development with his coming of age drama Four Walls, based in Toronto's Little Italy, in which he will make his feature film-directing debut.
Cassini and his family split their time between Vancouver and Los Angeles, with Vancouver being "home sweet home."
Select Another: