Dave Foley
As Chuck, the new owner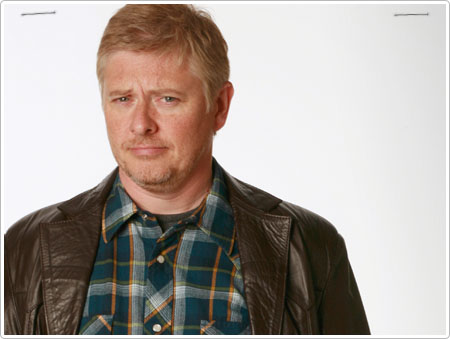 Having mastered the art of sketch comedy with cult favourite Canadian troupe "The Kids in the Hall," funnyman Dave Foley has evolved into one of Hollywood's leading comedic actors. Today, the "NewsRadio" alum continues to be one of the most sought after television and film stars.
Up next for Foley will be the feature film Out of Omaha, starring Lea Thompson and Patricia Richardson. The film also reconnects Dave with his "NewsRadio" cohort Vicki Lewis. He recently finished filming L.A. Blues, with Anthony Michael Hall and George Wendt and recently finished work on back to back independent films; the relationship comedy "The Strip", where he plays the manager of an electronics store in a strip mall and "Netherbeast Incorporated" co-starring alongside Darryl Hammond, Robert Wagner and Judd Nelson.
Foley spent four seasons hosting Bravo's hit series "Celebrity Poker Showdown." Along with commentator Phil Helmuth, a world class poker champion, Foley hosted the series that invited five stars of television, film, music and sports to compete against each other in a game of Texas Hold 'Em poker for a $250,000 pot to be donated to charity.
Dave was also seen in the Disney film Sky High, where he played "Mr. Boy," a former superhero sidekick now teaching at a high school for super heroes. The feature film centers around the son of the crime-fighting duo "The Commander (Kurt Russell)" and "Jetstream (Kelly Preston)," who enters Sky High superhero high school without any powers to speak of! The film was released on DVD in November of 2005.
Born and raised in Toronto, Foley attended alternative high schools where he began performing stand-up comedy for a creative writing project. His interest in improv led him to comedy workshops, where he met and teamed with Kevin McDonald in 1982. One year later, they formed The Kids in the Hall.
In 1984 "The Kids" reconfigured with the additions of Mark McKinney, Bruce McCulloch and Scott Thompson to form the seminal comedy troupe.
Their distinct and irreverent brand of comedy quickly earned them a large cult following and word spread. "Saturday Night Live" producer Lorne Michaels discovered them in 1987, and shortly after they shot their first television special. By 1989, the troupe had their own series on the Canadian Broadcasting Co. and later on HBO, where it aired until 1991. CBS and Comedy Central picked the show up right away, where it ran from 1992-1995, garnering several Emmy nominations along the way.
In 1996, "The Kids" crossed over into feature films with the release of Kids In The Hall: Brain Candy for Paramount Pictures. "The Kids" reunited in 2000 and again 2002 for their sold-out live tours and as most recently as 2007 have reunited for several shows at The Steve Allen Theater in Hollywood. The Kids in the Hall can currently be seen daily in syndication on Comedy Central.
After "Kids," Foley went on to star in the NBC laffer "NewsRadio" in 1995. As the seemingly unflappable "Dave Nelson," the news director of WNYX, a Manhattan "all news" radio station, Foley starred alongside the late Phil Hartman, Maura Tierney, Stephen Root, and Joe Rogan. New York's Daily News raved "NewsRadio stands out - thanks to sharp, offbeat scripts, a wonderfully idiosyncratic collection of regular characters and fiercely talented cast members who throw themselves completely and sometimes daringly into their roles." The first three seasons of both NewsRadio and Kids in the Hall are currently available on DVD.
On the small screen Dave was featured in an episode of Lovespring Eternal, the hilarious improv comedy show about the wacky goings on at an elite matchmaking service in Tarzana, CA. Foley also appeared as Jack's boyfriend in a recurring role on Will & Grace and a hysterical turn on NBC's Las Vegas as Mertens, a married man who shows up in Sin City looking for a little action, and not the gambling kind.
Foley's other feature film credits include 1999's Blast from The Past, in which he co-starred opposite Alicia Silverstone and Brendan Fraser. He also appeared in Dick, putting his comedic talent to work in the Watergate-era parody in which he portrayed President Nixon's Chief-of-Staff Bob Haldeman. He also took on the role of astronaut Al Bean in HBO's critically acclaimed and Golden Globe winning mini-series "From Earth to The Moon" produced by Tom Hanks.
Also an accomplished writer, Foley wrote and starred in the1999 film The Wrong Guy that made its American premiere at the U.S. Comedy Arts Festival in Aspen. In 2002 Dave was credited as writer, director, executive producer and star of the television special True Meaning of Christmas.
In addition to his many roles in front of the camera, Dave has leant his unique voice to a number of animated roles in such projects as South Park: Bigger Longer & Uncut, It's Tough To Be A Bug and What's New Scooby Doo? Dave was also the voice of "Flik" in the highly successful Disney feature A Bug's Life.
Select Another: