#201- Yuri Kukoc, Superintendent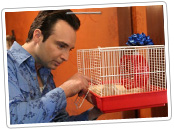 JOHN CASSINI (Intelligence, Dragon Boys) plays Yuri Kukoc (40), the building's handsome, sleazy, intolerant superintendent. His lascivious and crusty exterior hides a soft spot for a new baby in the building, Robbie. Surprisingly, he'll do anything for the little guy. But Yuri's life is about to be turned upside down by pressure from the building's new owners, along with a life-changing discovery fathering a dramatic decision.

#106- Chuck & Trixie Hoskins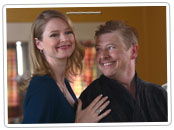 DAVE FOLEY (NewsRadio, Kids in the Hall) plays Chuck Hoskins (45), a down-home US charmer who buys Robson Arms. While he appears friendly on the surface, an aggressive manipulator lies beneath. When Fred realizes that Chuck was one of his childhood heroes, Chuck latches on to his new minion - Fred'll come in handy for either his shady plans or his nefarious schemes.

ALLISON HOSACK (Falcon Beach, Masters of Science Fiction) plays Trixie Hoskins (40), a southern belle skilled in using her good looks and feminine wiles to her advantage. Her faux charm may not be enough to seduce the tenants of the building, but that won't stop her from trying. If her husband Chuck is the smiling face of the operation, she's the brains.

#203- Bobbi & Robbie Briggs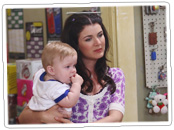 GABRIELLE MILLER (Corner Gas, Intelligence) plays Bobbi Briggs (27), who has suddenly found herself a single mom raising her beautiful baby, Robbie (10 months). Alone, depressed and lonely, she struggles to make ends meet... and wonders if she'll ever be happy again. But a chance encounter with an old enemy rejuvenates and empowers her. As the season goes on Bobbi discovers that she might even be ready to fend for herself... even if she doesn't want to.

#202- Hal Garcia & Nick Papathanasiou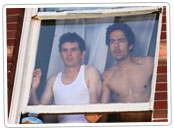 ZAK SANTIAGO (Intelligence, Flight 93) plays Hal Garcia (30), a laid back guy who coasts through life on his good looks and charm. But after a long look at his life (prompted by the early mid-life crisis of his roomie Nick), Hal decides to make some changes and embarks on a career in pest control. Suddenly, his life feels like it is on track... that is until a visit from his father (played by Joe Flaherty) changes everything.

FRED EWANUICK (Corner Gas, Young Triffie's Been Made Away With) plays Nick Papathanasiou (30). Unlike his roommate Hal, Nick isn't lucky with ladies... or anything else for that matter. Even when he catches a break, it backfires. Wanting to make something of his life, Nick hunts for a 'real job,' and lands a cushy position at an auto insurance company. But when he realizes the job is suffocating him, he makes a split second decision that sends him off on a new path.

#208- Fred Fochs & Alicia Plecas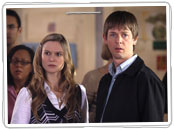 HAIG SUTHERLAND (Alice, I Think; Slither) plays Fred Fochs (33) a cyber (and general all around) geek who finally finds love and companionship with his beautiful new bride, Alicia. But he has to face down the green-eyed monster and an obnoxious co-worker (played by Will Sasso) before he can enjoy it. Fred's life becomes even more complicated when he recognises the building's new owner, Chuck, as a figure from his childhood. With a sense of purpose and confidence, Fred becomes Chuck's right hand man. But will this new power be too much for Fred to handle?

JANE MCGREGOR (Flower & Garnet, American Venus) plays Alicia Plecas (23) a blushing newlywed with mixed feelings about her current situation in life. While she loves Fred dearly, she also desperately misses her family. And when a visit from one of Fred's co-workers reveals his jealous side, Alicia wonders if marrying him was the right decision. Will their relationship survive now that the honeymoon is over? And if she makes it through that will she be able to resist the corrupting influence of being a woman of power?

#216- Sault Ste. Marie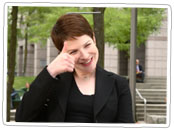 ALISEN DOWN (Battlestar Galactica, Smallville) plays Sault Ste. Marie (34) a negative, unapologetic, Toronto-raised Vancouver-hater. Beneath her tough shell lurk numerous insecurities, and a couple of secrets - including her alopecia, which is carefully hidden by a hairpiece. Things begin to take an upturn for Sault when Geoff turns her on to the power of positive thinking. While her 'positivity' is short lived, Sault realizes that by tapping into her own negativity, she's able to launch herself into a promising career and life in Vancouver.

#218- Stanley Wasserman & Geoff McAlister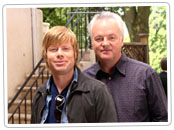 KEVIN MCNULTY (Fantastic 4: Rise of the Silver Surfer, DaVinci's City Hall) plays Stanley Wasserman (55). Stanley has an eye for the finer things in life - single malt scotch, double smoked bacon and his handsome, much younger boyfriend. When he starts to doubt Geoff's fidelity, Stanley's insecurity leads him to make a devastating mistake. Will it end up costing him the most important thing in his life?

DAVID RICHMOND-PECK (Traveler, Painkiller Jane) plays Geoff McAlister (31), an outgoing guy who is in love with his curmudgeonly boyfriend... or is he? When Stan's jealous tendencies start to wear on his nerves and talks of a serious commitment become frequent, Geoff takes a long look at his life. And when a lapse in Stanley's judgement turns their relationship on its head, Geoff is forced to decide what he truly wants.

#108- Carol & Georgia Goldstein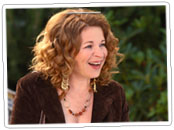 LINDA KASH (Cinderella Man, Best in Show) plays Carol Goldstein (46), a school principal who's divorced and loving it. It's great to be single until she's forced to choose between the 'right guy' and the 'wrong guy' - and ends up learning that sometimes you can't help who you fall for. Adding to her complicated life is her resentful daughter Georgia, as well as building issues which force her to step up and become a leader.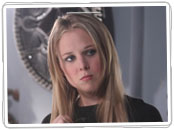 TEGAN MOSS (Alice, I Think; Godiva's) plays Carol's daughter, Georgia (17) who longs for a real relationship with her on-again, off-again mother. A budding artist, Georgia is looking beyond high school to her career. With a sense of impending adulthood, Georgia hopes that her relationship with her mother will blossom... or she'll have to find her mentors someplace else.

#100- The Tans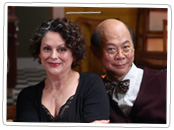 The Tans are a mostly Chinese-Canadian family who run the "Pendrell Market" and live in the crammed little apartment next door. Through overheard conversations and gossip at the market, the Tans learn a lot about their fellow tenants' lives.

GABRIELLE ROSE (Battlestar Galactica, The Sweet Hereafter) plays Mrs. Toni Mastroianni-Tan (49) who seems to be at the family store 12 hours a day, seven days a week. When she learns of the plans the new owners have for the building, Toni is very sceptical. But when a proposition from the Hoskins could be the financial boost her family needs, she questions which side of the fence she wants to be on.

COLIN FOO (Masters of Horror, Saving Silverman) plays Mr. Bao Tan (55) a quiet, unassuming man who happily helps his beautiful wife Toni run their family store. While he also makes extra money as a tuba player for a cruise ship orchestra, he longs for a more stable income for his family. And a stable income is exactly what Chuck and Trixie promise if he's willing to go along with their plans.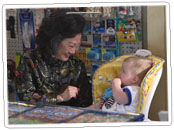 HELENA YEA (Smallville, Happy Gilmore) plays Grandma Tan (75), a feisty force of nature. While she confines her cutting commentary to Chinese so that the tenants will think she's a sweet old bird, her English is actually getting better. Always aware of what is going on in the other tenants' lives, this elderly firecracker could write a gossip column.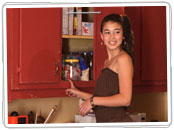 JUSTINE WONG (Psych, Dead Like Me) plays Ruby Tan (14). As the youngest Tan, Ruby used to be a tender thorn in her mother's side. But now that she's a teenager, she's poised to become the whole rosebush.

Visitor - Ramon Garcia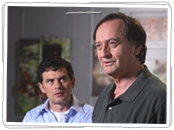 JOE FLAHERTY (SCTV, Detroit Rock City) plays Hal's father Ramon Garcia (55), a recently retired kiddie train engineer who plans to see the world in his new RV...but not before overstaying his welcome at Hal and Nick's. His visit gives Hal insight into his father's insecurities, and prompts Nick into making some drastic life changes to avoid a similar fate.

Visitor - Bark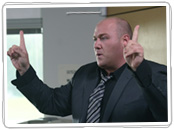 WILL SASSO (Mad TV, Happy Gilmore) plays Bark (30), Fred's obnoxious, aggravating co-worker at Strategic Consolidated. Recently dumped, Bark seeks comfort in the company of his 'best friend' Fred and Fred's new wife Alicia. But when Bark starts to flirt with Alicia, the green-eyed monster in Fred is unleashed.

Visitor - Phil
GAVIN CRAWFORD (This Hour Has 22 Minutes) plays Phil (34), a transgendered person Bobbi meets at SWUT- 'Single Women United Together.' As part of Bobbi's 'cool girl' clique, Phil helps her relive the glory days of high school, complete with popularity contests, backbiting and cruel practical jokes.

Visitor - Anke Vermeulen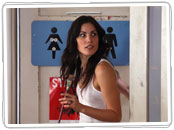 CARLY POPE (24, Popular) plays Anke Vermeulen (28), a passionate Belgian artist and social activist that Nick meets traveling in Europe. But while they had a romantic time together abroad, back in Vancouver Anke's self-righteous point of view starts to grate on Nick - and causes a rift between him and his best buddy Hal.

Visitor - Jordan Cohen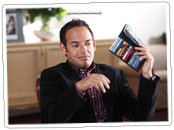 SHAUN MAJUMDER (This Hour Has 22 Minutes) plays Jordan Cohen (30), a super-dreamy chiropractor that Bobbi sets her sights on. When they become romantically involved, Bobbi begins to worry that he might be married...but the real truth about her "perfect catch" is much worse.

Visitor - Jason Rogerman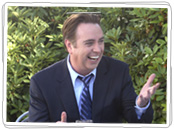 PATRICK MCKENNA (The Red Green Show, Traders) plays Jason Rogerman (41), Carol's goofy, abrasive, socially awkward new beau. Carol loves spending time with him one on one – too bad her friends can't stand him.

The Troubadours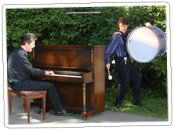 JASON DEDRICK and TOM SAUNDERS are THE TROUBADOURS, Robson Arms' own Greek Chorus, appearing in each episode with a song that gives an offbeat take on the story.