Gabrielle Miller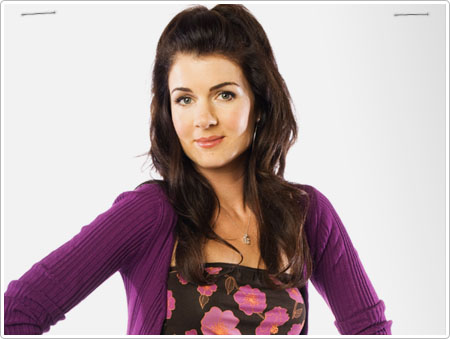 Gabrielle Miller is one of Canada's most loved female actors. She currently has lead roles in two of Canada's hottest shows - Corner Gas and Robson Arms. Gabrielle also stars in the upcoming CTV Movie of the Week Elijah directed by Paul Unwin (Casualty). Always busy, this fall Gabrielle will be seen in Holiday in Handcuffs as the fiancée of Mario Lopez (Dancing with the Stars, Saved By the Bell) for ABC Family. Gabrielle has been acting since she was seventeen and has shared the screen with an impressive list of talented actors.
Following a wealth of roles in top Canadian and American shows Gabrielle landed a lead in CTV's Corner Gas - the highest rated comedy program in Canadian television history. It is currently the most watched comedy series in the country with 1.6 million per episode, making Gabrielle a household name.
The half-hour comedy centers around the fictional small town of Dog River in Saskatchewan and the lives of Brent LeRoy, who runs the gas station, and Gabrielle's character Lacey Burrows, who owns the coffee shop, as well as the other very colourful local folks. The show has enjoyed four successful seasons on CTV and is currently filming the fifth season set to air this September. The first season of Corner Gas will start airing in the United States this September.
Both Gabrielle and the show have received numerous awards and accolades. The show has won 5 Canadian Comedy Awards, 3 Gemini's (including Best Comedy or Series in 2006) and 4 Leo's. With eleven award nominations over the years, Gabrielle has garnered the Leo Award two years consecutively, in 2005 and 2006 for Music, Comedy, or Variety Program or Series: Best Performance or Host(s). She was also nominated for a Canadian Comedy award for Pretty Funny Performance and a Gemini for Best Ensemble Performance in a Comedy Program or Series. Gabrielle was voted Favourite Canadian Female Star by TV Guide's '2006 Readers Poll.'
Robson Arms has also received rave reviews and has also won both Gemini and Leo Awards as well as literally dozens of nominations. Gabrielle plays Bobbi Briggs, a newlywed and newcomer to Vancouver. This half-hour comedy is a series of voyeuristic snapshots into the private lives of the various residents living in an apartment block in downtown Vancouver called Robson Arms. For her role, Gabrielle won a 2007 Leo Award for Best Supporting Performance by a Female in a Dramatic Series.
Gabrielle also does extensive work as a Master of Ceremonies for charitable events and high profile award shows, including the Juno Fest Kick-Off in Saskatoon this year and the upcoming Aboriginal Peoples' Choice Music Awards (APCMA) in Winnipeg November 2nd, 2007, co-hosting with the handsome Lorne Cardinal (Corner Gas).
Although these roles keep Gabrielle very busy she also finds time to support worthwhile causes, one of which is very close to her heart. Vela Microboard is a registered non-profit organization dedicated to exploring, facilitating and supporting innovative community living options for people with disabilities, (www.mircroboard.org). Gabrielle and her family helped to develop the Shanti Miller Friendship Society, the first Microboard in British Columbia 1989, for her sister Shanti who lives with Cerebral Palsy. Gabrielle is a member of her sister's Microboard as well as being the spokeswoman for the Vela Microboard Association. There are now over 300 Microboards in British Columbia.
Gabrielle has five siblings. She grew up living in Vancouver and moved to White Rock for her teenage years. A new part-time resident of Saskatchewan, Gabrielle also shares her time between Los Angeles and Vancouver and enjoys the healthy lifestyle all three cities provide. She loves to hike and walk her dog. She also works out regularly with her boxing coach and Pilates instructor.
Select Another: