Gavin Crawford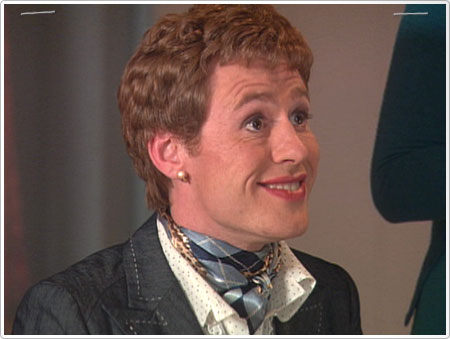 Gavin Crawford was born and raised on the flat fields of Southern Alberta. Having seen enough wheat for one lifetime he headed west to earn a BFA at the University of British Columbia. From there it was off to Toronto, to make it big in the Squeegee business; unfortunately all the good corners were taken, so he decided to start acting.
Gavin Crawford's comedy was first noticed turning the Toronto comedy scene on its ear with his unique brand of character stand up. Since he first stalked the stage at Spirits Bar and Grill with a ratty T-shirt and a tube of lipstick, Mr. Crawford has become a fixture of alternative comedy stages all over Toronto. Crawford's one man character revue, Standing/Mis drew sold out crowds in Toronto and in London.
Crawford was invited to perform at the HBO U.S. Comedy Arts Festival in Aspen, February, 2000, as part of their Alternative Showcase. Later in the year, Crawford headlined at the Edmonton Comedy Festival. In the previous summer ('99), Gavin made his first appearance at the Montreal Just For Laughs Comedy Festival where he was offered an unprecedented four spots. In addition he performed in the Second City showcase at Just For Laughs as part of the Toronto Company. This was immediately followed by an appearance at the Vancouver International Comedy Festival where he was invited to appear at their Gala Opening. His work has been showcased at the We're Funny That Way Comedy Festival where he opened for Lea Delaria in '98 and was the headliner in '99 with his sold-out show, You Shouldn't Be Watching This.
He joined the mainstage cast of Toronto's oldest comedy institution The Second City writing and performing in their 1999 productions Y2K: The Chip Hits the Fan and Nude Beachwear, 100% Off. He had previously worked with the sketch troupe, Pale By Comparison, appearing on the CBC series Sketch.Com.
In 2000, Gavin was named Best Comedian in a reader's poll by NOW Magazine (Toronto). He had previously been awarded the 1998 Tim Sims Encouragement Fund Award, which acknowledges excellence in emerging Toronto comedians.
In 2004, Gavin performed in Sky Gilbert's play Rope Enough at Buddie in Bad Times Theatre
.
Gavin appears a series lead in the 2006/2007 season of This Hour Has 22 Minutes. He debuted on the show three years ago. Gavin also has just finished writing and producing an animation pilot based on and titled The Bronte Sisters for Disney. Gavin and writing partner Kyle Tingley recently finished working on a feature film script commissioned by Alliance-Atlantis based on one of the characters in his series, Red Ronny Rocker and are currently collaborating on their next feature.
Gavin is co-writer and star of an episodic series appropriately titled The Gavin Crawford Show that initially aired in the summer of 2000 on the Comedy Network. The first four episodes of the series were nominated for Best Performance, Best Writing and Best Direction for the 2001 Canadian Comedy Awards. The show was nominated for a 2003 Gemini and Gavin won Best Actor at the Canadian Comedy Awards also in 2003 and a Gemini award for Best Comedy Performance in 2004.
His one-man show, Ripe and Red, broadcast on CTV and Comedy Network's Comedy Now in the fall of 1999, was nominated for a Gemini Award for Best Performance In A Comedy Program or Series.
Gavin has appeared on CTV's Sonic Temple as a special recurring guest star. He has also performed as a series lead in WB Television's sketch comedy show Hype. Gavin has also made a guest appearance on the acclaimed Red Green Show. We saw him in his first feature film lead as Harper in the Canadian film My Dog Vincent. You can also see Gavin in a British feature film, Dead By Monday.
Gavin Crawford is currently a Toronto resident and is represented by Kishwar Iqbal, Gary Goddard Agency Ltd., in Toronto and Kevin Volchok, Endeavor in L.A.
Select Another: